Our Menu
---
Explore our menu to find a new favorite or stop by any location to sample our daily specials. You can also take your food to-go! Feel free to stop in or call us to place your order. Our Jewella Avenue and Benton Road locations also have pick-up windows for your convenience.
See you soon!
Daily Specials $8.99
---
Served from 10:30 a.m. to 8:30 p.m. 7 Days a Week
Occasionally demand exceeds our supply and we run out of a daily special items. We apologize for any inconvenience when this occurs.
**Entrees served with 3 sides, and Cornbread, Roll, or Biscuit
Monday
Pork Tenderloin • Chicken & Dumplings • Beef Tips
Mashed Potatoes
Turnip Greens
Butter Beans
Mac & Cheese
Squash
BBQ Beans
Rice
Yams
Corn
Green Beans
Cabbage
Potato Salad
Tuesday
Pork Tenderloin • Fried Chicken Breast
Smothered Pork Chops • Chicken & Dumplings
Smoked Chicken Breast
Mashed Potatoes
Turnip Greens
Butter Beans
Mac & Cheese
Fried Squash
Yams
BBQ Beans
Rice
Broccoli Cheese
Casserole
Okra & Tomatoes
Cabbage
Potato Salad
Wednesday
Pork Tenderloin • Country Fried Steak • Meat Loaf
Mashed Potatoes
Turnip Greens
Butter Beans
Mac & Cheese
Squash
BBQ Beans
Rice
Yams
Corn
Cabbage
Black-Eyed Peas
Potato Salad
Thursday
Pork Tenderloin • Fried Pork Chops • Hamburger Steak
Mashed Potatoes
Turnip Greens
Butter Beans
Mac & Cheese
Fried Okra
Fried Squash
BBQ Beans
Rice
Broccoli Cheese
Casserole
Yams
Black-Eyed Peas
Green Beans
Potato Salad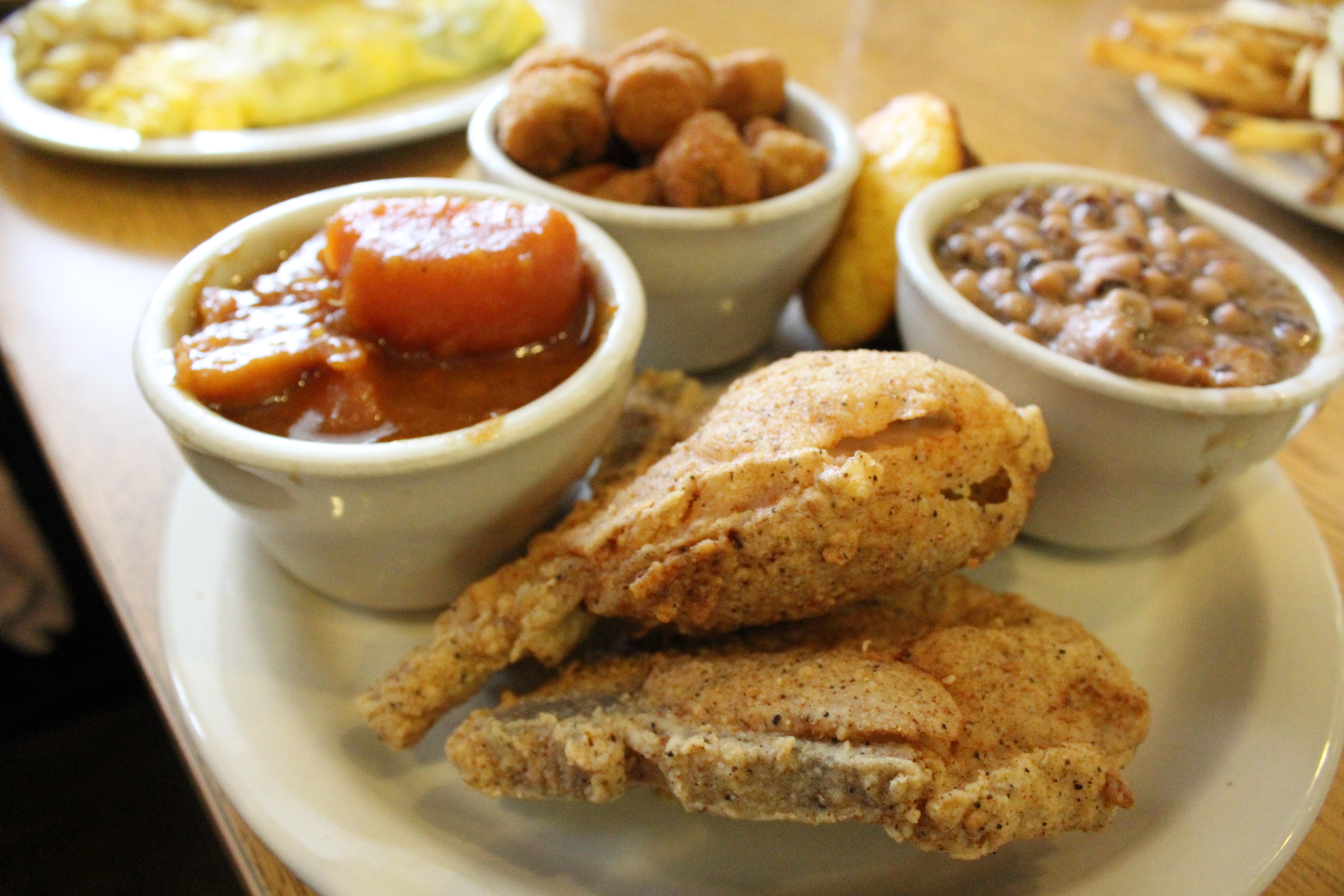 Friday
Pork Tenderloin • Fried Catfish • Beef Tips
Mashed Potatoes
Turnip Greens
Butter Beans
Mac & Cheese
Fried Okra
Okra & Tomatoes
BBQ Beans
Rice
Green Beans
Black-Eyed Peas
Coleslaw
Fried Squash
Potato Salad
Yams
---
Saturday
Pork Tenderloin • Chicken & Dressing • Beef Tips
Mashed Potatoes
Turnip Greens
Butter Beans
Mac & Cheese
Okra & Tomatoes
Yams
BBQ Beans
Rice
Broccoli Cheese
Casserole
Squash
Green Beans
Potato Salad
---
Sunday
Pork Tenderloin • Beef Tips
Fried Pork Chops • Fried Chicken Breast
Mashed Potatoes
Turnip Greens
Butter Beans
Mac & Cheese
Okra & Tomatoes
Fried Squash
BBQ Beans
Rice
Broccoli Cheese
Casserole
Yams
Black-Eyed Peas
Cabbage
Potato Salad
Breakfast Served Anytime
One Egg & One Piece Bacon or Sausage, Biscuit or Toast $3.99
French Toast (1 piece), One piece Bacon or Sausage $4.49
One Pancake, One piece Bacon or Sausage $4.49
Grilled Cheese with Fries $3.99
Hamburger with Fries $4.49
Cheeseburger with Fries $4.99
Chicken Tenders (2 Pieces) Fries or 2 Veggies $6.49
Catfish (1 Piece) Fries or 2 Veggies $5.99
DRINKS $1.29
Sodas, White Milk, Chocolate Milk or Juice
Kid's Daily Special $5.49
Entree, 2 Veggies & Bread
Breakfast Served Any Time
Eggs
Two eggs

Any style, with Grits or Hash Browns, &
Hot Biscuits or Toast $4.99
Add Ham, Bacon, Sausage (links or patties) or Pork Chop $6.49

One Egg

Any style, with Grits or Hash Browns, & Hot Biscuits or Toast $4.49
Add Ham, Bacon, Sausage (links or patties) or Pork Chop $5.99
Omelets
Served with Grits or Hash Browns, and Hot Biscuits or Toast
Cheese $7.49
Ham, Bacon, or Sausage & Cheese $8.99
Meat Lovers $9.49
Western $9.49
Veggie (Bell Pepper, Onion, Tomato) $7.49
Hot Cakes, French Toast,
& Waffles
Short Stack (2) $4.99

Add Ham, Bacon, Sausage (links or patties) or Pork Chop $7.99

Stack (3) $5.99

Add Ham, Bacon, Sausage (links or patties) or Pork Chop $8.99

French Toast $5.49

Add Ham, Bacon, Sausage (links or patties) or Pork Chop $7.99

Waffle (1) $4.99

Add Ham, Bacon, Sausage (links or patties) or Pork Chop $7.99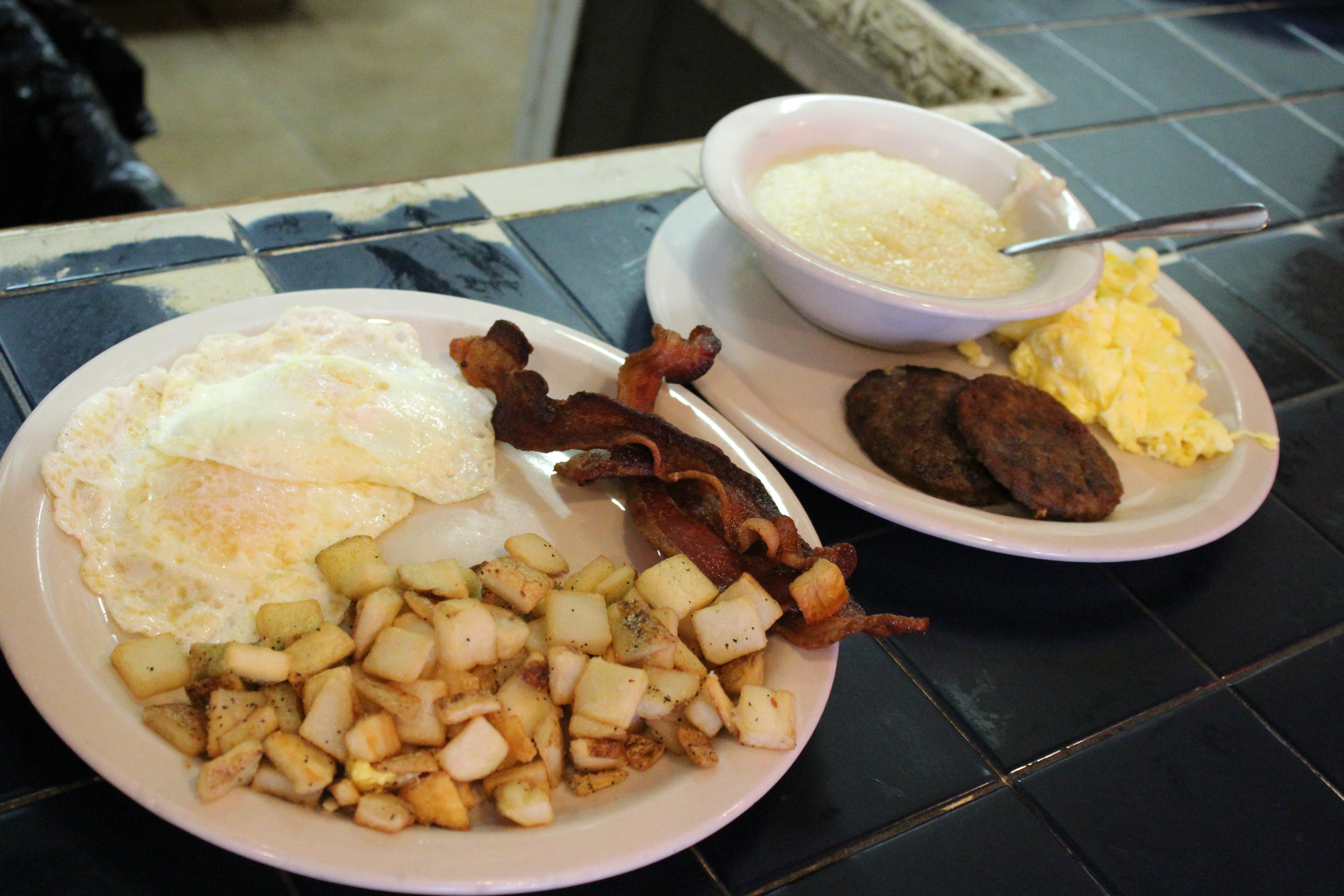 Hot Biscuits And Gravy
Biscuits (2) and Gravy $2.99
Biscuits (2) and Sausage Gravy $5.99
Side Orders
Egg(s) each $0.99
Hash Browns $2.69
Ham, Bacon, Sausage (links or patties) or Pork Chop (1) $2.99
Grits $2.49
Toast (White or Wheat) $0.99
Biscuits (2) $1.49
Sausage Biscuit (1) $1.99
Cereal
Oatmeal or Cold Cereal $2.99
All-American Favorites
Burgers
(Served dressed with mayonnaise, onions, pickles, lettuce and tomatoes)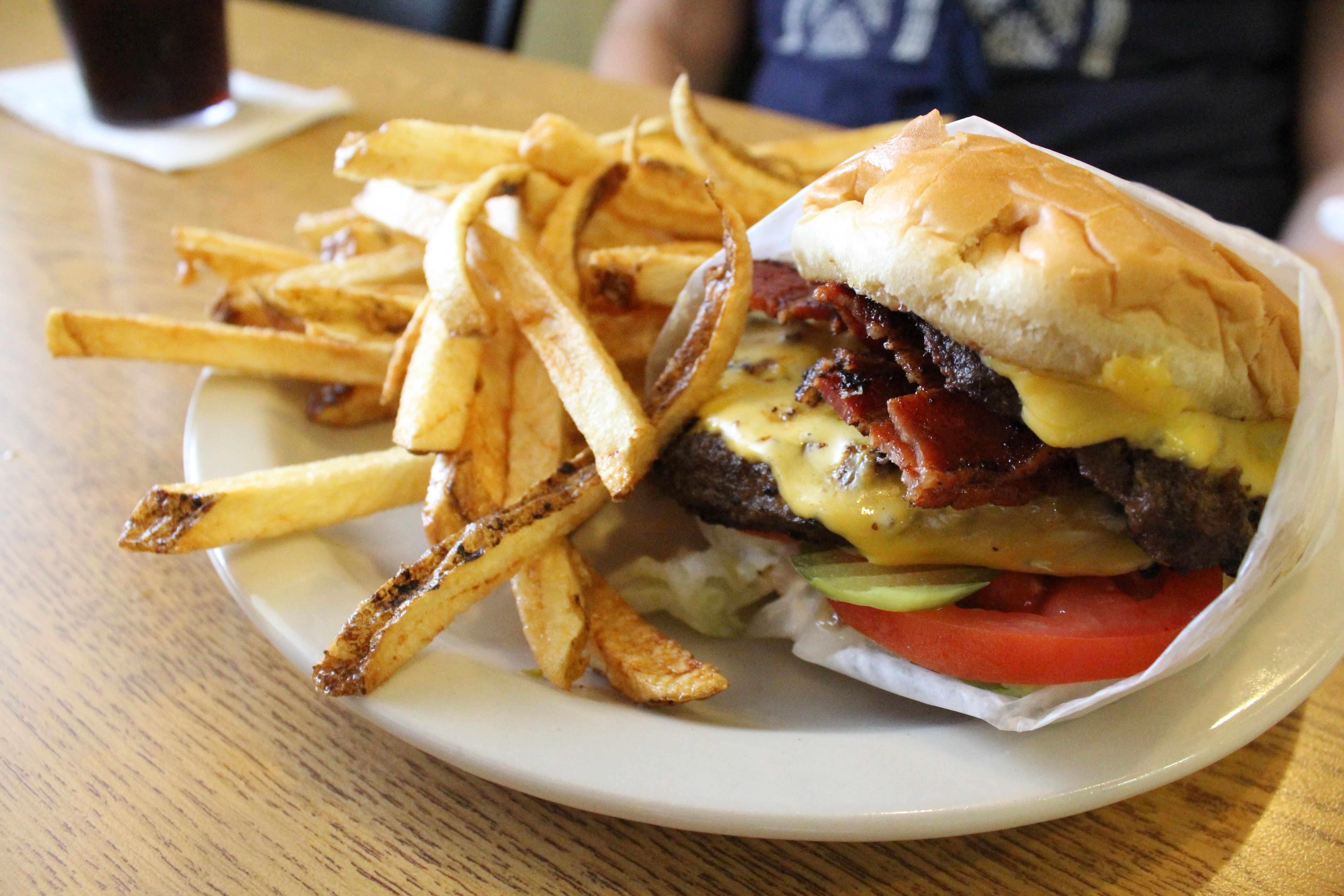 Hamburger $3.59
Cheeseburger $3.79
Bacon Cheeseburger $4.99
Double Hamburger $4.59
Double Cheeseburger $4.99
Bacon Double Cheeseburger $5.99
Shoe String Fries $2.69
Hash Browns $2.69
Homemade Fries $3.49
Grilled Cheese $2.99
Bacon, Lettuce & Tomato $4.49
Ham, Lettuce & Tomato $4.49
Fried or Scrambled Egg, Lettuce & Tomato $3.49
Fried or Scrambled Egg with Ham or Bacon, Lettuce & Tomato $5.49
Turkey & Cheese, with Lettuce & Tomato $4.99
Club Po-Boy (served with fries) $7.99
Pork Loin Po-Boy (served with fries) $7.99
Grilled or Fried Chicken Po-Boy (served with fries) $7.99
Country Fried Steak Po-Boy (served with fries) $7.99
Fried Catfish Po-Boy (served with fries) $9.99
Salads
Ranch, Thousand Island, Italian, French, Honey Dijon, or Bleu Cheese
Side Salad $2.79
Grilled or Fried Chicken Salad $8.49
Chef Salad $8.99
Home Cooking
Served Anytime
(Served with Fries, or Three Sides & a Bread)
Country Fried Steak served with White or Brown Gravy

(1 Steak) $8.99
(2 Steaks) $10.49

Hamburger Steak served with Grilled Onions & Brown Gravy $8.99
Grilled Chicken Breasts (2) $9.99
Chicken Tenders (3) served with White Gravy $9.29
Fried or Grilled Pork Chops (2) $9.79
Fried or Grilled Catfish (3) $12.99
3 Veggies and Bread $5.49
4 Veggies and Bread $6.49
Additional Veggies Each $2.29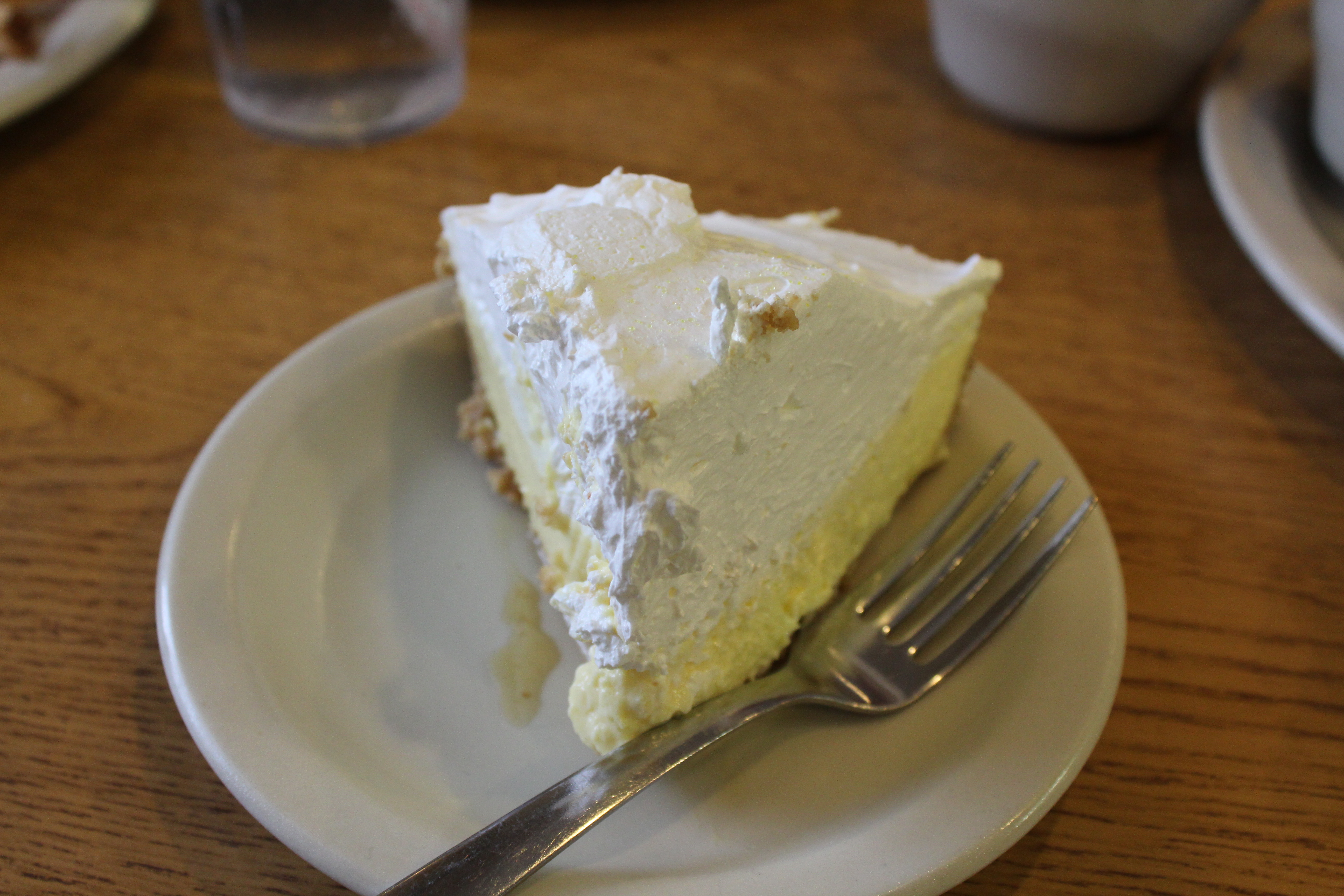 ICE BOX PIES
Chocolate, Lemon, Peanut Butter or Coconut $3.79
Whole Pie $21.99
Apple or Pecan Pie $2.99

With Ice Cream $3.99 (*Not available at Southfield Road Location)

 Chocolate or Lemon Cake $2.99

With Ice Cream $3.99 (*Not available at Southfield Road Location)

 Banana Pudding $3.79
Orange Juice, Apple Juice $2.25
Coffee, Decaf, Hot Tea & Hot Chocolate $1.99
White or Chocolate Milk $2.25
Iced Tea $1.99
Sodas (Free Refills) $2.25